A new report from the Enterprise Strategy Group endorses these benefits. Aside from its durability, reliability and security guarantees, HPE StoreEver tape is the most cost-effective solution for storing data for long periods – and by a significant margin.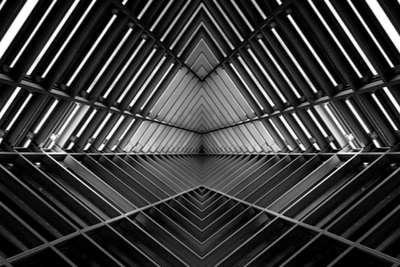 In any business, a mix of technologies must come together to preserve, protect and manage data. Each will have its own unique qualities. Some are blisteringly fast, others able to expand to manage a seemingly insurmountable increase in data volumes. The amazing flexibility of the cloud and the recovery speed of flash and hyperconverged platforms put these technologies in the spotlight – while tape sits quietly behind the scenes, with some unique and unbeatable qualities of its own that make it an essential component in modern storage infrastructure.
HPE has always highlighted tape's unique ability to provide the ultimate long stop against the threat of cyberattack, and to create tamperproof storage libraries to meet the most testing of compliance regulations. Keeping data offline behind an air gap using LTO tape can help neutralize a ransomware attack that could disrupt both your servers and your disk or cloud backups. Write-Once-Read-Many (WORM) technology locks data away in an unassailable, tamperproof state.
New economic validation for HPE StoreEver
Now, a new report from the Enterprise Strategy Group[2] endorses these benefits. Aside from its durability, reliability and security guarantees, HPE StoreEver tape is the most cost-effective solution for storing data for long periods – and by a significant margin.
ESG recommends that organizations wanting to store large data archives for an extended period of time – e.g. those required for legal or compliance purposes – should carefully consider the hidden long-term storage and retrieval costs of other storage platforms.
For example, monthly fees for cloud storage are certainly low, but the charges for retrieving data can quickly escalate for the majority of providers whose business model is based around OPEX fees for both storage and retrieval. HPE has recently taken a step towards reducing this overhead with HPE Cloud Volumes. One of the benefits of HPE Cloud Volumes Services is being able to store data in the cloud without egress fees.
Even without retrieval costs, of course, it may still be a challenge to know how much data will be stored in the cloud over time, or how frequently (and quickly) you'll need to recall it from an offsite location. But one thing is certain, the more you have stored in the cloud, the more cost you will incur in either storage fees, egress charges, or both.
Save up to 86% using HPE StoreEver
When ESG analyzed the ten-year TCO of HPE StoreEver it revealed a substantial 86% cost saving ($2.358M vs $329K) over the public cloud's storage and egress costs that accrue over long periods of time.
When compared with all-disk solutions, organizations can still save with HPE StoreEver due to the lower capital expenses incurred. Even taking into account the upfront investment and maintenance costs associated with on-premises kit, you could shrink your archival storage costs by as much as 82% ($329K for HPE vs $1.803M for all-disk), because of lowering related power, cooling and administration costs.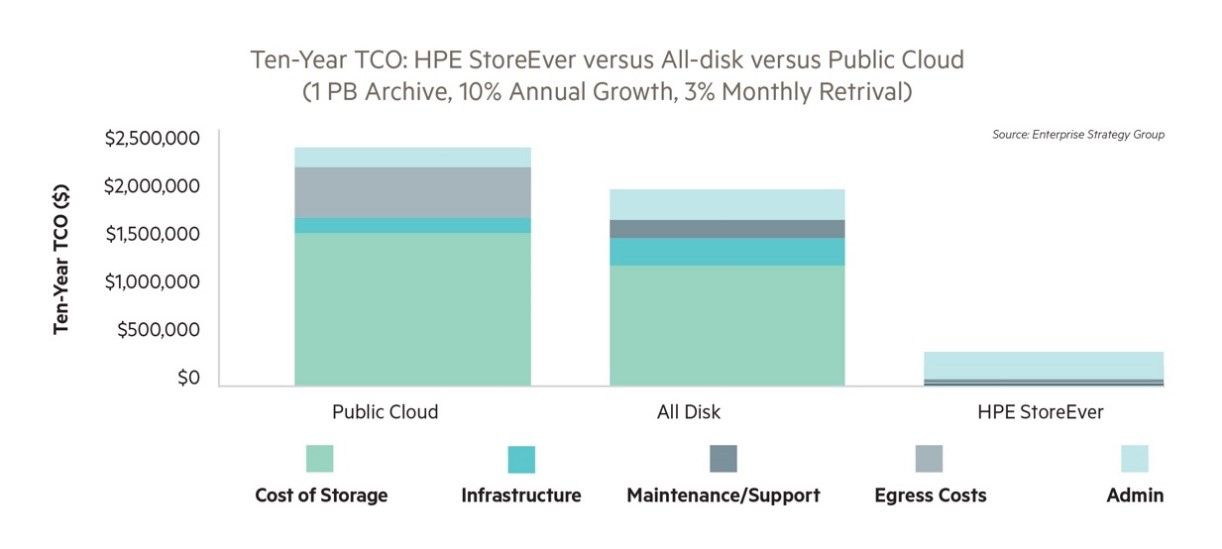 With on-premises tape storage, organizations may only need to purchase additional media capacity and tape library modules to accommodate data growth every three to five years.
Big data = big cost?
One of the challenges with any kind of TCO analysis is trying to model all the different variables. For the bulk of their findings, ESG assumed a company with a 1 PB archive growing at 10% year, and witnessing 3% retrieval rate.
For many businesses, even SMBs, 1 PB may no longer be that substantial. Applying the same calculations to a 5PB archive, however, means the gap between HPE StoreEver and other technologies becomes even wider.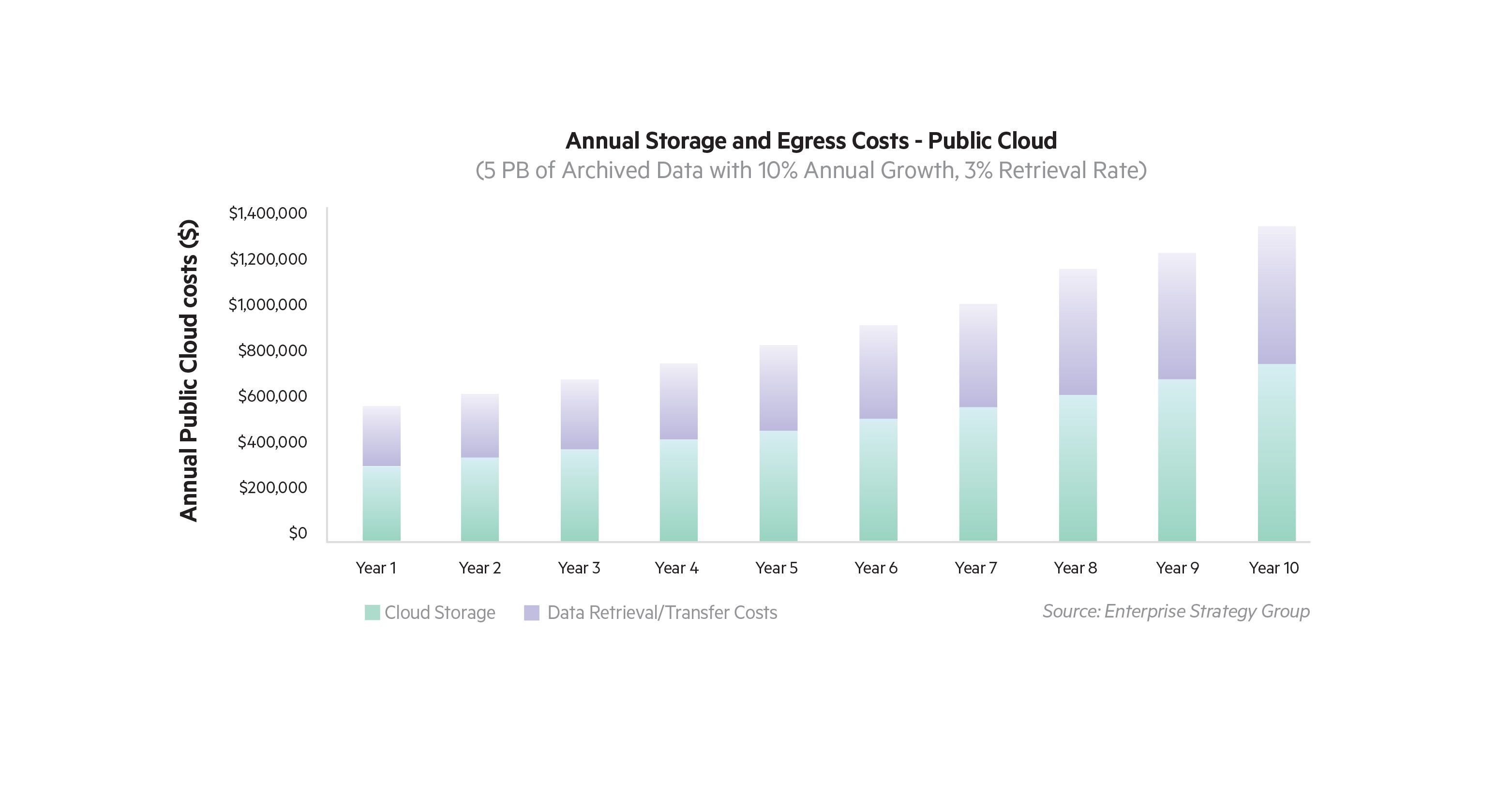 For a 5 PB archive in the public cloud, ESG estimated that the annual spend will grow to $1.359M by Year 10. That breaks down to $766K for public cloud storage, and $592K for egress costs.
But if the organization chose to purchase HPE StoreEver and additional LTO-8 tape drives to accommodate for annual data growth, the cumulative storage costs across the whole ten year period amount to just $145K. This is substantially lower than just the cloud storage costs for Year 10 alone! Even without egress charges, therefore, it's clear that HPE StoreEver can provide significant economic value to businesses, alongside some of the more flexible and fluid storage opportunities presented by the cloud.
Meanwhile, at a 50% growth rate, instead of just 10%, ESG estimated that the ten-year TCO for public cloud storage increased to $23.6M at a 50% data growth rate, compared with $1.6M for HPE StoreEver – meaning potential savings of up to 93% could be realized when using tape as part of your long term archival storage options.
Conclusion
The bottom line is that a company with any significant amount of data stored in an LTO archival tier should witness substantial savings in the medium to long term – with no hidden costs in retrieving data and no power or cooling overhead when safeguarding data at rest. This advantage is unlikely to fade any time soon. With LTO cartridge capacity growth predicted to continue to outstrip the capacity growth of hard disk drives[3], the low cost of ownership of HPE StoreEver should continue to cut the cost of archival storage for years to come. And all the while, tape users will continue to enjoy the extra security against ransomware that storing data, in an offline location and behind a tape airgap, can offer.
As the recent Blackbaud ransomware incident highlights, where multiple universities were targeted through their cloud provider, customers who complement their cloud or disk based data protection strategy with tape could give themselves additional protection if their service provider – or another client – falls victim to a cyberattack. Of itself, the cloud, like any connected technology, is not, and is unlikely to ever be, 100% secure against criminal intent. I think that rather than viewing this subject as a question of either/or, businesses would be well advised to think in terms of 'and': using the best of HPE disk, cloud and tape storage to build a secure, circular fortress that achieves the right mix of performance, availability and security and the most efficient cost of ownership.
HPE StoreEver tape: the evergreen storage technology that's becoming ever more relevant and affordable!